Mashing Buttons Monday @ Player 1 Video Game Bar! +21 / Powered by Grilla!
Super Smash Bros Ultimate
16 / 16 Participants
Hello and welcome to Mashing Buttons Monday first OFFICIAL tournament Series! We will be hosting 2 featured tournaments with 2 different games every Monday night and all skill level of players are welcomed! We support a positive, encouraging but still competitive environment and mindset and want EVERYONE to have a fun and exciting time! Its HIGHLY RECOMMENDED TO BRING YOUR OWN CONTROLLERS. Winners get a FREE Beer provided by Player 1 Video Game Bar!!
Please arrive before 9:30pm and when you arrive please tell the front desk that you are here for the tournament! We will get you checked in and ready to compete!! Ask for Josh!!
Any questions call me at 5598855732!
Tournament Location
Sunrise City Plaza, 2797 S Maryland Pkwy #24, Las Vegas, NV 89109, USA
Tournament Organizer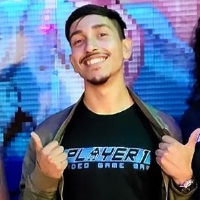 BrometheusPrime
Stage 1: Single elimination